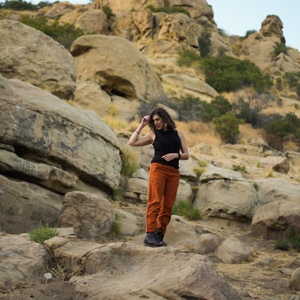 PR Contact:
Amanda Blide // TREND
323.668.9383
Official One Sheet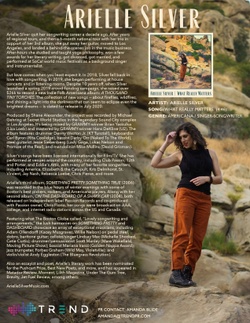 Arielle Silver "What Really Matters"
Suggested tracks are marked in red.
By clicking submit and downloading this album you agree that all tracks are for review purposes only. You may stream up to two songs on your website or blog after requesting permission by email
here
. Any commercial use is prohibited by law.
OFFICIAL BIO
Arielle Silver quit her songwriting career a decade ago. After years of regional tours, and then a 6-month national tour with her trio in support of her 3rd album, she put away her guitar, moved to Los Angeles, and landed a behind-the-scenes job in the music business. After-hours she studied and taught yoga philosophy, won a few awards for her literary writing, got divorced, got married, and performed at SoCal world music festivals as a background singer and instrumentalist.
But love comes when you least expect it. In 2018, Silver fell back in love with songwriting. In 2019, she began performing at house concerts and in listening rooms. Despite 10 years off, when Silver launched a spring 2019 crowdfunding campaign, she raised over $26k to record a new Indie Folk Americana album: A THOUSAND TINY TORCHES. The collection of new songs -- about fireflies, wildfires, and shining a light into the darkness that can seem to eclipse even the brightest dreams -- is slated for release in July 2020.
Produced by Shane Alexander, the project was recorded by Michael Gehring at Secret World Studios in the legendary Sound City complex in Los Angeles. It's being mixed by GRAMMY-winner Brian Yaskulka (Lisa Loeb) and mastered by GRAMMY-winner Hans DeKline (U2). The album features drummer Denny Weston Jr. (KT Tunstall), keyboardist Carl Byron (Rita Coolidge), bassist Darby Orr (Naked To The World), steel guitarist Jesse Siebenberg (Lady Gaga, Lukas Nelson and Promise of the Real), and mandolinist Mike Mullins (David Grisman).
Silver's songs have been licensed internationally for Film/TV. She has performed at venues around the country, including Club Passim, 12th and Porter, and Eddie's Attic, with many of her favorite songwriters, including America, Elizabeth & the Catapult, Kris Delmhorst, St. Vincent, Jay Nash, Rebecca Loebe, Chris Pierce, and more.
Arielle's third album, SOMETHING PRETTY SOMETHING TRUE (2006) was recorded in the blue hours of winter evenings with some of Boston's best pickers, rockers, and Americana players. Along with her second album, ON THE DASHBOARD OF A SHAKY CAR (2004), both released on independent label Passion Records and co-produced with Passion owner, Chris Florio, her songs were broadcast on AAA, college, and internet radio stations across the US and Canada.
Featuring what The Boston Globe called, "Lovely songwriting and arrangements," the lush harmonies on SOMETHING PRETTY and DASHBOARD showcase an array of exceptional musicians, including Adam Ollendorff (Kacey Musgraves, Willie Nelson) on pedal steel, dobro, baritone guitar; celloist/singer Lindsay Mac (Michelle Shocked, Catie Curtis); drummer/percussionist Scott Manley (Mare Wakefield, Moving Picture Show); bassist Mariana Iranzi (Golden Nappa Award); jazz trumpeter, Forbes Graham (Wild May, Violetville); and violin/violist Andy Eggleston (The Bluegrass Revolution).
Also an essayist and poet, Arielle's literary work has been nominated for the Pushcart Prize, Best New Poets, and more, and has appeared in Matador Review, Moment, Lilith Magazine, Under The Gum Tree, Brevity, Jet Fuel Review, among others.