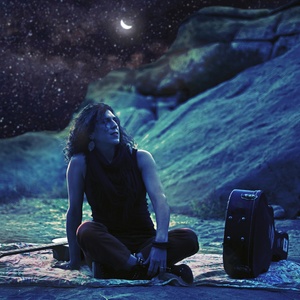 PR Contact:
Amanda Blide // TREND
323.668.9383
Official One Sheet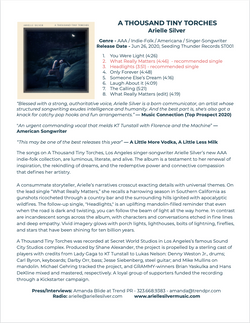 Press Sheet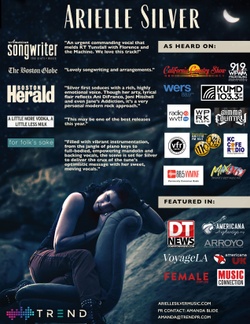 Arielle Silver "A Thousand Tiny Torches"
Suggested tracks are marked in red.
| | Song Title | Time |
| --- | --- | --- |
| | 1. You Were Light | 4:26 |
| | 2. What Really Matters | 4:46 |
| | 3. Headlights | 3:51 |
| | 4. Only Forever | 4:48 |
| | 5. Someone Else's Dream | 4:15 |
| | 6. Laugh About It | 4:09 |
| | 7. The Calling | 5:20 |
| | 8. What Really Matters (Radio Edit) | 4:19 |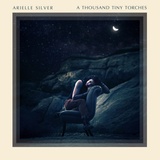 By clicking submit and downloading this album you agree that all tracks are for review purposes only. You may stream up to two songs on your website or blog after requesting permission by email
here
. Any commercial use is prohibited by law.
OFFICIAL BIO
Arielle Silver crafts songs that are luminous, literate, and alive. A Thousand Tiny Torches, the singer-songwriter's new AAA indie-folk collection, is a testament to her renewal of inspiration, the rekindling of dreams, and the redemptive power and connective compassion that defines her artistry.
A consummate storyteller, Arielle's narratives crosscut exacting details with universal themes. On the lead single "What Really Matters," she recalls a harrowing season in Southern California as gunshots ricocheted through a country bar and the surrounding hills ignited with apocalyptic wildfires. The follow-up single, "Headlights," is an uplifting mandolin-filled reminder that even when the road is dark and twisting, you can follow the beam of light all the way home.

In contrast are incandescent songs with characters and conversations etched in fine lines and deep empathy. Vivid imagery glows with porch lights, lighthouses, bolts of lightning, fireflies, and stars that have been shining for ten billion years.

Her rich, expressive alto voice frames expansive melodies that echo the American heartland. Now based in Los Angeles, Arielle knows this geography well. A performing itinerary transported her from Club Passim in her adopted hometown of Boston to venues including Eddie's Attic in Atlanta and Nashville's 12th & Porter, plus stops to the Southwest, as she steered a vegetable oil-fueled vehicle across Texas, through Arizona, and into California.

Ten years ago, with three well-received releases accompanied by national tours, she lost sight of her future as an artist. "Though my heart still ached to write songs and sing, I found that I couldn't do it anymore," she recalls.

Arielle moved to the City of the Angels. She divorced and remarried, taught yoga philosophy, and worked behind the scenes in the music industry. She penned and published essays and poems, and was nominated for the Pushcart Prize and Best New Poets. She baked innumerable pies. In spring of 2018, she constructed a blue "she shed" in her backyard. And it was in this rustic space – surrounded by 47 volumes of her journals – that she rekindled her love for music and dedicated herself to writing one song per week.

The result is A Thousand Tiny Torches. Produced by Shane Alexander, the project is propelled by the masterful playing of a sterling cast of players with credits from Lady Gaga to KT Tunstall to Lukas Nelson: Denny Weston Jr., drums; Carl Byron, keyboards; Darby Orr, bass; Jesse Siebenberg, steel guitar; and Mike Mullins on mandolin. Michael Gehring tracked the project at Secret World Studios in Los Angeles in the famous Sound City Studios complex, and GRAMMY-winners Brian Yaskulka and Hans DeKline mixed and mastered, respectively. A loyal group of supporters funded the recording through a Kickstarter campaign.

After launching a holiday single in 2019, Arielle returned to performing at house concerts and listening rooms, including the fabled Hotel Café in Hollywood... until COVID-19. Now, she's live-streaming from her shed and playing Zoom concerts. This time, she says, singing for audiences feels good. "When I was younger I was performing," she confirms. "Now, I'm connecting."

Arielle Silver says that when she made her break with music a decade ago, her ambition for everything stopped. "I couldn't see the future anymore, and it was beautiful. I became so present in a way I never had been before, and that sense lasted for a long time." Now, in themes that speak to losing and rediscovering the path, emerges a musical alchemy of renewal and rebirth: A loving light that is reflected from A Thousand Tiny Torches.