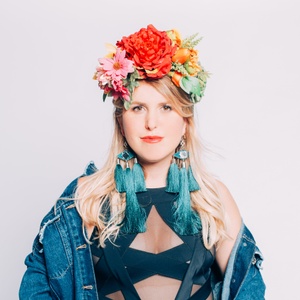 Official One Sheet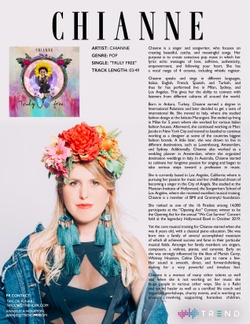 Chianne "Truly Free"
Suggested tracks are marked in red.
By clicking submit and downloading this album you agree that all tracks are for review purposes only. You may stream up to two songs on your website or blog after requesting permission by email
here
. Any commercial use is prohibited by law.
OFFICIAL BIO
Chianne is a singer and songwriter, who focuses on creating beautiful, catchy, and meaningful songs. Her purpose is to create conscious pop music in which her lyrics echo messages of love, self-love, authenticity, empowerment, and following your heart. She has a vocal range of 4 octaves, including whistle register.
Chianne speaks and sings in different languages, Italian, English, French, Spanish, and Turkish, and thus far has performed live in Milan, Sydney, and Los Angeles. This gives her the ability to connect with listeners from different cultures all around the world.
Born in Ankara, Turkey, Chianne earned a degree in International Relations and later decided to get a taste of international life. She moved to Italy, where she studied fashion design at the Istituto Marangoni. She ended up living in Milan for 5 years where she worked for various Italian fashion houses. Afterward, she continued working at Marc Jacobs in New York City and moved to Istanbul to continue working as a designer at some of the countries biggest fashion brands. A little later, she was drawn to live in different destinations, such as Luxembourg, Amsterdam, and Sydney. Additionally, Chianne also worked as a wedding planner in Amsterdam, where she organized destination weddings in Italy. In Australia, Chianne started to cultivate her longtime passion for singing and began to take serious steps toward a profession in music.
She is currently based in Los Angeles, California where is pursuing her passion for music and her childhood dream of becoming a singer in the City of Angels. She studied at the Musician Institute of Hollywood, the Songwriters School of Los Angeles, where she received excellent musical training. Chianne is a member of BMI and GrammyU foundation.
She ranked as one of the 16 Finalists among 14,000 participants at the "Opening Act" Contest; winner to be the Opening Act for the annual "We Can Survive" Concert held at the legendary Hollywood Bowl in October 2019.
Yet the core musical training for Chianne started when she was 6 years old, with a classical piano education. She was born into a family of several accomplished musicians of which all achieved success and fame in their particular musical fields. Amongst her family members are singers, composers, a violinist, pianist, and canonist. Early on she was strongly influenced by the likes of Mariah Carey, Whitney Houston, Celine Dion just to name a few. Her sound is smooth, direct, and forward-thinking, making for a very powerful and timeless feel.
Chianne is a woman of many other talents as well and when she is not working on her music she helps people in various other ways. She is a certified life coach and organizes workshops, charity events, and is working on projects involving supporting homeless children.