Dawson Fuss "edge of adolescence"
Suggested tracks are marked in red.
| | Song Title | Time |
| --- | --- | --- |
| | 1. Real Boys Don't Cry | 04:16 |
| | 2. Hollywood Heartbreak | 03:52 |
| | 3. Hey You | 04:00 |
| | 4. Never Really Knew | 03:45 |
| | 5. Right Person, Wrong Time | 03:36 |
| | 6. Confused | 02:58 |
| | 7. Free | 03:47 |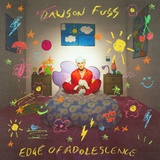 By clicking submit and downloading this album you agree that all tracks are for review purposes only. You may stream up to two songs on your website or blog after requesting permission by email
here
. Any commercial use is prohibited by law.
OFFICIAL BIO
A Santa Barbara native, Dawson Fuss began humming along to songs on the radio before he could speak. At five, he began starring in local musical productions and other theater programs, propelling him to pursue a career in music where he can transform emotions into lyrics through songwriting. "I come to life whenever I can perform in front of an audience," he says.
His unique pop sound is influenced by artists such as Ruel, Rex Orange County, Conan Gray, and Harry Styles. In a recent newspaper interview, Dawson said, "[music is] so much of who I am. I think it's really a part of everybody. Everyone has their inner soundtrack of their life that makes them who they are."
As he matured, Dawson's passion for music has continued to flourish. He performs at his school in two choirs and an a cappella group, and most recently placed in the top-three in the local singing competition Teen Star Santa Barbara, judged by American Idol's Randy Jackson. After showcasing his original song, "Real Boys Don't Cry," Jackson proclaimed of Dawson, "a star is born." His music explores themes of confusion and challenges as he struggles with the difficulties of adolescence and balancing the sharp edge between being a kid and becoming an adult. When Dawson isn't creating music, he's exploring other mediums of art that he's passionate about, including photography and cinematography. His keen eye for visual storytelling led him to receive the Silver Key Scholastic Art Award in photography. Dawson directed and edited his debut music video for "Hey You," aptly reflecting his enthusiasm for various artistic means of expression.
Dawson continues to develop his unique voice through collaborations with writers Luke Matthew, Will Everett, and Erland Wanberg. Stay tuned for new music from Dawson Fuss in the coming months.