Fox and Bones "American Alchemy"
Suggested tracks are marked in red.
| | Song Title | Time |
| --- | --- | --- |
| | 1. A Changing of the Guard | 03:34 |
| | 2. Call Your Mother | 03:02 |
| | 3. Dancing In The Aisles | 03:16 |
| | 4. Already Here (Music In Modern Times) | 04:01 |
| | 5. Running Free | 03:20 |
| | 6. Houses of Sand | 03:38 |
| | 7. Be Born in the Ashes of Your Aging | 03:44 |
| | 8. Brandon's Song | 03:33 |
| | 9. A Strange and Wondrous Place | 03:30 |
| | 10. Second Chances | 03:26 |
| | 11. Layers of Antiquity | 06:53 |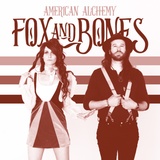 By clicking submit and downloading this album you agree that all tracks are for review purposes only. You may stream up to two songs on your website or blog after requesting permission by email
here
. Any commercial use is prohibited by law.
OFFICIAL BIO
Nine out of ten ancient scholars agree that the third time is in fact a "charm" and for Portland, Oregon based modern vintage duo Fox and Bones, this rings true. As the final touches are being put on their third studio album, American Alchemy, (out on Dutch Records May, 2021) they can't help but to reflect upon the five years and 536 shows that brought them to this prescient point in their career.
Fox and Bones (Sarah Vitort and Scott Gilmore) formed in 2016 and were in the studio recording their debut record, The Remarkable Adventures Of, mere weeks after meeting. These early offerings were honest and raw, a blend of gentle folk with subtle instrumental backing. This led to several European and US tours before a second studio record emerged in 2018. This sophomore collection, Better Land, showed an influx of modern folk-pop trappings as the influences of producer Dominik Schmidt and engineer Matt Greco began to merge with the tour-worn stylings that were born from life on the road.
This brings us to the charm, their upcoming record American Alchemy. This collection of songs finds Fox and Bones fully formed with elements of folk, pop, americana and soul fused lyricism joined together into an amalgamation of modern vintage goodness. With the guidance of producer/engineer Matt Greco, American Alchemy is the final iteration that the duo has been striving towards since they first charmed their way into each others lives so many years ago.