Freedom Heartsong "The Humane Experience"
Suggested tracks are marked in red.
| | Song Title | Time |
| --- | --- | --- |
| | 1. Evil Grieves | 04:18 |
| | 2. Dark Ocean Of Human Emotion | 03:31 |
| | 3. Peace Despite The Pain | 03:25 |
| | 4. Life At The Beach | 03:37 |
| | 5. Lend A Helpin' Hand | 04:29 |
| | 6. All Along The Watchtower | 05:06 |
| | 7. Los Angeles | 04:03 |
| | 8. Warm Rain | 05:18 |
| | 9. One Great Day At A Time | 04:47 |
| | 10. Once | 03:22 |
| | 11. Warrior Of The Light | 04:39 |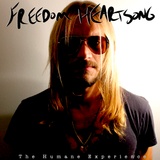 By clicking submit and downloading this album you agree that all tracks are for review purposes only. You may stream up to two songs on your website or blog after requesting permission by email
here
. Any commercial use is prohibited by law.
OFFICIAL BIO
Freedom Heartsong is a Los Angeles-based singer, songwriter, multi-instrumentalist, and multimedia artist. In late 2019, he signed a global distribution deal with Sony/Orchard, Dark Star Records which released his first album "Get A Heart On" on May 23rd, 2020. That same year, he became the #1 artist on the entire record label, and also one of only two artists submitted for a Grammy consideration, with his song "Ecstatic Magic." In 2021 he was again on the Grammy ballot with his single "Evil Grieves." Blues is the foundation of all of his music, and the heart and soul of his sound. His original music as well as his solo and power trio live performances bring bluesy, soulful, rockin' and rollin' tunes filled with positive energy. He has rocked a variety of notable venues, from The Mint and The Viper Room in Los Angeles, to The Cutting Room and Otto's Shrunken Head in NYC, and bills with the likes of The Beach Boys, Cheap Trick, All American Rejects, Neon Trees, and Sugar Ray. He has garnered artist endorsements from Blackstar Amplification, Warm Audio, and Thimble Slide. His album "Get A Heart On" was produced, mixed, and engineered by Barry Pointer (John 5 & The Creatures, Glen Sobel, Todd Morse) at Riott House Studio and mastered by Mike Wells Mastering (Green Day, The Mother Hips). In the summer of 2022, he released his full-length album entitled The Humane Experience, which he produced entirely, was mixed and engineered by Benjamin Cunill of Left Coast Recording, and was mastered by twelve-time Grammy nominee and four-time Grammy-winning mastering engineer Gavin Lurssen (George Harrison, Lenny Kravitz, Ben Harper).

An all-around self-taught creative, life experience and the learn-by-doing approach have been essential to Freedom's growth and development. In addition to music, throughout his entire life, he has made countless artistic creations in a wide variety of disciplines including design, sculpture, woodwork, ceramics, painting, photography, printmaking, and poetry. From the rainforests of Costa Rica, to the cultural art and music centers of Africa, to the legendary clubs of Los Angeles and NYC, a rich diversity of cultures have influenced him along the way. With an international presence in the music and art communities, his fans and artwork can be found in many countries around the world. His work is infused with socially aware messaging and poetic meaningful lyricism overflowing with good vibes. He creates music with the loving intention of inspiring all people to be their best selves and enjoy life to the fullest.

Freedom Heartsong released his new album, The Humane Experience, on June 17th, 2022 via Sony/Orchard, Dark Star Records.