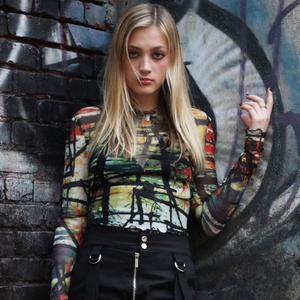 PRESS CONTACT:
Annjie Houston // TREND
Annjie@TrendPR.com
(323) 668-9383 ext. 703
Taylor Funari // TREND
Taylor@TrendPR.com
(323) 668-9383 ext. 706
Official One Sheet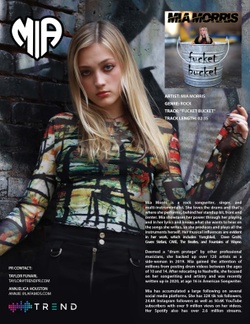 Mia Morris "We Were Never Friends"
Suggested tracks are marked in red.
By clicking submit and downloading this album you agree that all tracks are for review purposes only. You may stream up to two songs on your website or blog after requesting permission by email
here
. Any commercial use is prohibited by law.
Mia Morris "Fucket Bucket"
OFFICIAL BIO
Mia Morris is a rock songwriter, singer, and multi-instrumentalist. She loves the drums and that's where she performs.. behind her standup kit, front and center. Mia showcases her power through her playing and in her lyrics and knows what she wants to hear on the songs she writes, so she produces and plays all the instruments herself. Her musical influences are evident in her work, which include Jack White, Dave Grohl, CAKE, The Beatles, and Fountains of Wayne.
Deemed a "drum protege" by other professional musicians, she backed up over 120 artists as a side-woman in 2019. Mia gained the attention of millions from posting drum videos between the ages of 10 and 14. After relocating to Nashville, she focused on her songwriting and artistry and was recently written up in 2020, at age 16 in American Songwriter.
Mia has accumulated a large following on several social media platforms. She has 32K TikTok followers, 23.8K Instagram followers as well as 23.8K YouTube subscribers with over 9 million views on her videos. Her Spotify also has over 2.6 million streams.